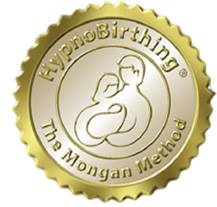 Mandie Medford is proudly certified by, and affiliated with the HypnoBirthing Institute for over 10 years.
Pregnant women expecting a baby in the Las Vegas and Henderson areas now have a natural choice for comfort during their labor and birthing. The premier choice in natural childbirth education in southern Nevada is HypnoBirthing® – through HypnoBirthing Las Vegas. HypnoBirthing is more than traditional prepared childbirth classes.
Whether having a hospital birth or home birth, planning a natural birth or wanting an epidural, HypnoBirthing offers women safer and gentler childbirth by blending trust in the female body with the documented effectiveness of self-hypnosis (deep relaxation), guided imagery, visualization, special breathing and tension-releasing techniques. HypnoBirthing teaches expectant mothers to follow the lead of their body and baby and to use their own natural birthing instincts. Combined with sound information on the physical process of pregnancy, labor, and birth, it is no wonder that new parents everywhere are thanking HypnoBirthing Las Vegas and their childbirth educators for a calmer, more relaxed labor and birthing experience. HypnoBirthing returns birth to the simple and miraculous event that nature intended.
HypnoBirthing Las Vegas has been serving the Las Vegas, Summerlin, Green Valley and Henderson areas since 2003 (originally founded by Anne Swanson). Mandie Medford became the owner of HypnoBirthing Las Vegas in 2008, she's a Certified HypnoBirthing Practitioner, Breastfeeding Educator, and a HypnoBirthing mom. HypnoBirthing Las Vegas has helped over 1,000 Las Vegas, Henderson and Southern Nevada families prepare for their baby's birth. Over 75% of pregnant mothers taught through HypnoBirthing Las Vegas birth their babies naturally. Many families attribute their calm and confident birthing style to the thoughtful, compassionate and inspiring instruction offered through HypnoBirthing Las Vegas .